Wrongful Death Lawsuit Filed in Los Angeles County Mid-Air Collision Fatality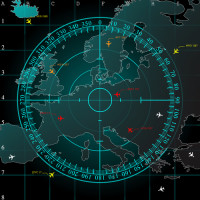 A wrongful death lawsuit has been filed on behalf of a man who died in a mid-air collision between two small planes in Los Angeles County last April. A preliminary report released by the National Transportation Safety Board (NTSB) has not revealed the cause of the accident or who was to blame, although the report does contain several factual details about the accident. According to aviation attorney Charles M. Finkel, it may take up to a year, or perhaps longer, before a final report is issued by the NTSB.
The accident occurred during the afternoon of April 29, 2013 after two aircraft had departed from Santa Monica Airport (SMO). One aircraft was a Cessna 172RG and the other was a Cessna 172M. Both are high wing four place single-engine aircraft.
The 172M departed SMO to the west, headed up the coast and then turned inland heading east, at a reported altitude of 3,300 feet. Meanwhile, the 172RG was heading westbound at a reported altitude of 3,400 feet. The planes collided about three miles southwest of Calabasas. When they struck, the 172M immediately went down while the 172RG was able to make an emergency landing in a golf course about 5 miles northwest of where the 172M crashed.
The wrongful death lawsuit is filed on behalf of the family of deceased passenger Christopher Wade, who was a passenger in the Cessna 172M piloted by Cheryl Jolene Strawn. The aircraft was being operated as a personal flight.
The Cessna 172RG was being operated by Santa Monica-based American Flyers and was on a flight instruction mission. Peter Nagy, an employee of American Flyers, was providing flight instruction at the time of the collision. There were two other licensed pilots on board the aircraft.
The lawsuit filed on behalf of the Wade family names as defendants American Flyers, American Flyers, LLC of Florida, the registered owner of the aircraft, and Peter Nagy. The Wade family is being represented by Charles M. Finkel of the Magaña, Cathcart & McCarthy law firm. According to Mr. Finkel, "The pilot of each aircraft was flying under Visual Flight Rules. We believe the pilots on board the American Flyers aircraft had the best opportunity to see and avoid this crash, and their failure to do so caused the deaths of Mr. Wade and Ms. Strawn." A trial date has been set for March of 2015.