Windshield and Landing Gear Failures Cause Emergency Landing in Fresno County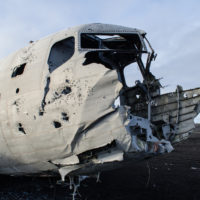 A plane carrying a family of four experienced a forced landing near Firebaugh Airport in Firebaugh, California. The plane suffered numerous mechanical failings during the brief time it was in the air, including a windshield malfunction and failure of the landing gear to deploy.
The aircraft was an Evolution Air Lancair Evolution, carrying four passengers and one owner/operator pilot. The passengers consisted of a family of four who were returning home to Arizona after a stay in Northern California. The aircraft departed the Livermore Municipal Airport, headed for Marana Regional Airport in Marana, Arizona, on the afternoon of May 15. The initial portion of the flight was uneventful. While the plane was cruising at an altitude of about 25,000 feet, the pilot recounted that the windshield "exploded" without any warning. Subsequent investigations found that the windshield spontaneously separated.
The plane cabin lost pressure instantly, and the sudden loss of pressure caused the pilot's headset to be sucked out of the aircraft.  The pilot then activated the aircraft's oxygen masks and put his on. The pilot was able to locate a nearby airport during the plane's descent and enter the location of the airport into the onboard GPS. The pilot managed to level off the aircraft and make visual contact with the airport once the plane reached 12,000 feet of altitude. While unable to see the airport's windsock, the pilot chose a runway and attempted to land. When he deployed the landing gear, it failed to activate, despite multiple attempts.
With little time left to get the landing gear to descend, the pilot chose to land the plane with its landing gear in the up position. While the landing was reportedly smooth and level, it occurred at a high rate of speed, and without landing gear the plane overran the runway. The aircraft continued to travel through a fence and across the road, ultimately coming to rest in a field. The passenger seated in the front next to the pilot was taken to the hospital with minor injuries, and two other passengers suffered minor injuries that did not require emergency care. Otherwise, the plane's occupants were safe.
If you have been injured in a plane crash or helicopter accident in California, find out if you have a right to seek money damages for your injuries by contacting the knowledgeable and experienced Los Angeles aviation accident lawyers at Magaña, Cathcart, & McCarthy for a consultation, at 310-553-6630.