Truck Meets Train on Socal Tracks: Dozens Injured, Driver Arrested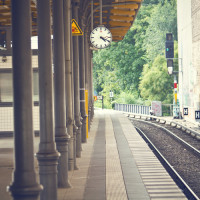 A Metrolink train heading toward Los Angeles on the Ventura route in the pre-dawn hours of Tuesday, February 25th, slammed into a Ford F-450 pickup truck stopped on the tracks in Oxnard. The crash pushed the pickup truck about 300 feet down the tracks and derailed the five-car train, with three cars falling over onto their sides. Thirty of the train's 48 passengers were transported to the hospital for medical attention, with three passengers and the train's engineer listed in critical condition. As of this writing, it has been learned that the engineer has since died in the hospital.
The driver of the pickup truck had left his vehicle and was not injured in the collision. He was located by police about 45 minutes after the crash over a mile and a half away. He was found in a disoriented condition, although police are not releasing the results of drug and alcohol testing they conducted. He was initially arrested on suspicion of felony hit and run, but it is unclear whether charges will be filed. According to reports by the driver and his wife, he accidentally drove onto the tracks and his truck got stuck on the rails, and he jumped out when he saw the train coming.
A spokesman for the National Transportation Safety Board (NTSB), which is investigating the crash, disputes that the truck was stuck on the crossing. So far, the investigation has revealed that the truck's emergency brake was engaged, and its high beams were on, possibly in an attempt to alert the oncoming train.
Although the NTSB typically does not investigate grade crossing incidents, especially where there are no fatalities, it has chosen to investigate the unusual circumstances in this case. Video and data recorders recovered at the scene are being sent to D.C. for analysis. The Federal Railroad Administration is also investigating the accident.
Controversial Train Crash, But Could Have Been Worse
This crash will certainly renew the controversy of this particular grade crossing, which has seen six collisions over the past seven years. The City of Oxnard has been planning for years to build a bridge over the crossing, although this plan has been excruciatingly slow in coming to fruition.
Another controversy surrounding the accident may be the fact that the passenger cars were being pushed by the Metrolink train rather than pulled. Although this configuration may be more efficient for Metrolink, it has often been criticized as unsafe for passengers. On the plus side, the cars involved in the wreck had advanced safety features which probably saved many lives in this crash. Metrolink purchased the safer cars after a grade crossing incident in Glendale in 2005 caused multiple fatalities.