Truck Accident Prevention Program Pulls Nearly 14,000 Tractor-Trailers Off the Road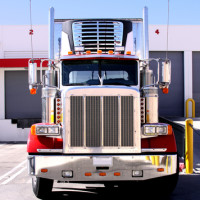 This summer, the Commercial Vehicle Safety Alliance (CVSA), in conjunction with the Federal Motor Carrier Safety Administration (FMCSA), conducted their 27th annual truck safety enforcement event, a 72-hour blitz that inspected 73,475 trucks and buses across the country and in Canada and Mexico as well, stopping semi-trucks at approximately 2,500 locations across North America over the course of three days. Almost 14,000 18-wheelers, just about one out of every five vehicles inspected, ended up being placed out-of-service for safety violations. The majority of vehicle-related out-of-service (OOS) violations (60.2%) were attributed to brake adjustment violations, brake system issues, and tire/wheel OOS violations.
The safety event, known as Roadcheck 2014, included inspection of truck drivers as well as the trucks themselves. About 5% of drivers – or nearly one out of 20 – were hit with OOS Violations. Nearly half of those OOS placements were due to hours of service violations, meaning these truckers were driving beyond the maximum hours in a day or week allowed by FMCSA regulations, which are already quite generous (up to 11 hours behind the wheel in a 14-hour workday across a six or seven day workweek).
These hours of service violations were uncovered partly through inspection of logbooks. Disturbingly, the second-highest category of driver violations was the discovery of false logbook incidents. Driver falsification of logbooks to misrepresent compliance with regulations is something which is sometimes discovered when investigating a trucking accident that caused serious personal injury or wrongful death to the occupants of another vehicle.
Other prominent reasons for trucker OOS violations were drivers who were disqualified from driving or who were found driving under a suspended license.
On the bright side, most of these numbers show an improvement over Roadcheck 2013 figures. Unfortunately, we still have a long way to go in making truck traffic on the roads safer for families who share the roads everyday with the big rigs.