Traffic Deaths Increase Over Previous Year's Total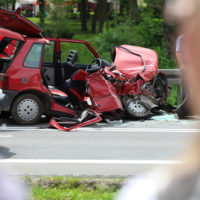 Due to constantly-improving vehicle safety features and life-saving technologies, experts expect roadway fatalities to decrease each year. In fact, that is precisely what has happened for the past fifty years, with the only unknown being the amount by which fatalities would decrease. Therefore, when the National Highway Traffic Safety Administration (NHTSA) released its preliminary data on traffic injury and fatality rates for 2015, it came as a major shock that in 2015, roadway fatalities increased by almost 8% over 2014's numbers. Safety experts and policymakers remain at a loss as to the reason for the increase.
The rate of fatal accidents increased in essentially every category measured. For instance, pedestrian deaths increased by approximately 10%, and bicyclist deaths increased by nearly 13%. Fatalities resulting from accidents involving a large truck increased by 4%, and fatal accidents involving a young driver (between the ages of 15-20) increased by 10%. Motorcyclist fatalities also jumped by nearly 9% nationwide. Certain regions of the country were harder hit than others, as well. For example, the region comprised of California, Arizona, and Hawaii saw an 8% jump in roadway fatalities, while the region comprised of southern states such as Florida, Georgia, and Tennessee experienced an increase of 14% in road deaths.
Typically, safety experts attribute increased roadway deaths to an increase in overall vehicle miles traveled, stemming most often from decreased gas prices or an improving economy. 2015 was a year when unemployment rates and gas prices decreased markedly, but the increase in vehicle miles traveled was only 3.5% overall. This leaves much of the increased fatality rate unexplained, and experts are currently exploring other possible causes.
Dr. Mark Rosekind, administrator of the NHTSA, described the factors that tend to play a role most often in fatal accidents. He noted, "the data tell us that people die when they drive drunk, distracted, or drowsy, or if they are speeding or unbuckled. While there have been enormous improvements in many of these areas, we need to find new solutions to end traffic fatalities."
If you have been injured by a negligent, reckless, or drunken driver in Southern California, contact the aggressive and knowledgeable Los Angeles personal injury attorneys at Magaña, Cathcart & McCarthy for a consultation on your case, at 310-553-6630.