Tanker Truck Overturns in Los Angeles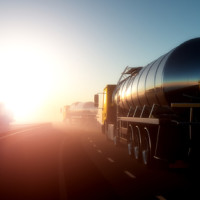 A tanker truck full of milk overturned Monday morning while transitioning from the 10 Freeway westbound to the 5 Freeway northbound in downtown Los Angeles. The road remained closed for most of the day while crews were called in to clean up the spill, right the tanker and move it off the freeway. No other vehicles appear to have been involved in the accident, and the truck driver was hospitalized in good condition.
There is a saying that bad things happen in threes, and indeed a milk tanker overturned and spilled on September 26th in Indiana, and the driver had to be airlifted to a hospital to be treated for a possible broken collarbone and internal injuries. Three days earlier, a milk tanker in New Zealand overturned and spilled its cargo onto the road. A major concern there is the environmental impact of 15,000 liters (about 4,000 gallons) of milk contaminating a stream at the crash site. Now that these three incidents are over, hopefully the global milk supply will be safe from tanker accidents for a while.
Clichés about crying over spilled milk aside, it is fortunate that this accident did not cause more serious injuries to the driver of the truck or to other cars on the freeway. Truck accidents are no joke and are responsible for thousands of deaths and over a hundred thousand injuries every year. The size and weight of a fully-loaded tanker truck creates a devastating force that can decimate a smaller, lighter vehicle in virtually any impact. According to data collected by the Federal Motor Carrier Safety Administration, a truck accident is more than one and a half times as likely to involve a fatality than an accident involving other vehicle types.