Takata Airbags Recalled after Six Dead and Over 100 Injuries in Car Crashes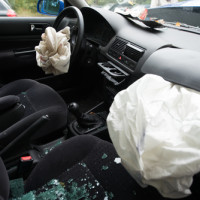 Airbags installed in nearly 34 million vehicles manufactured by 10 different car companies may be equipped with dangerously faulty airbags. The fault lies in the airbag inflator, which is a metal cartridge filled with propellant. A combination of faulty design, poor quality control in the manufacture of the component, and the use of materials which break down over time, have all led to a dangerous airbag known to deploy and ignite explosively. The inflator cartridge may also rupture in a crash, sending shards of metal flying through the cabin of the vehicle with explosive force.
So, far, six fatalities and more than 100 injuries have been linked to the defective airbags, manufactured by Takata Corporation, an automotive parts company based in Japan. The faulty airbag may be located on the front driver's side, passenger side, or both, depending upon the vehicle. Ten car companies and 33.8 million vehicles are supposed to be equipped with the potentially deadly airbags, although for some reason only about four million vehicles appear to have been recalled at this time.
Mostly model years 2002 to 2008 are affected, although some 2014 models may be involved as well. The car companies implicated in the recall include the following:
Acura
BMW
Chrysler
Dodge
Ford
General Motors
Honda
Infiniti
Lexus
Mazda
Mitsubishi
Nissan
Subaru
Toyota
If you are concerned that your vehicle may be housing a dangerous airbag, you can check to see if your car has been recalled by going to the following site and entering your Vehicle Identification Number (VIN), which can be found on the dashboard near the windshield on the driver's side, or on the driver's side door post, near the latch: VIN-lookup.
Getting full information about the level of danger has been challenging for government regulators. Takata was fined by the National Highway Traffic Safety Administration (NHTSA) $14,000 per day for failing to fully cooperate with the government's investigation. Most recently, it appears that anywhere from 400,000 to 900,000 of replacement inflators may themselves have to be recalled and replaced.
If you or a loved one were seriously injured in a car accident, it may be worthwhile to investigate whether a faulty airbag contributed to those injuries. If so, you may be entitled to compensation from the manufacturer. Contact Magaña, Cathcart & McCarthy in Los Angeles to discuss your case.