Small Aircraft Lands on 405 Freeway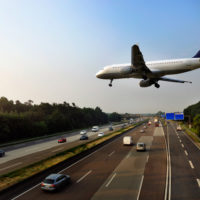 In a dramatic airplane crash that shut down the I-405 freeway, a small aircraft dropped from the sky near the John Wayne Airport on Friday, June 30, 2017.
The small twin-engine Cessna 310 was carrying two people when it took off from John Wayne Airport in Costa Mesa, California at about 9:30 am. Shortly after taking off, air traffic controllers reported getting an emergency message from the pilot of the aircraft. The tape of the emergency call to air traffic controllers was recorded and released online. "Hey, we got a mayday," the pilot said. "Mayday, mayday, I'm trying to make it back to the airport." The air traffic controller alerted the pilot to the fact that the aircraft's landing gear remained up, and the pilot explained that he was trying to pull up, but that he "lost his right engine." The pilot tried to turn the plane back around, but was unable to get back to a landing strip in time, and came down on the 405 freeway, which runs alongside the airport.
Despite the perpetual traffic marking the 405, the plane managed not to do more damage than to clip a pickup truck as it came down on the freeway. The driver of the pickup truck walked away with only bruises. Multiple videos soon appeared on social media documenting the plane's crash, as dozens of drivers looked on from the 405. The plane came down hard onto the southbound side of the freeway, spinning and bursting into flames and scattering debris across the span of the road.
The occupants of the plane were a man and woman in their 50s and 60s. They were pulled from the burning aircraft by an off-duty fire captain who happened to be on the freeway at the time of the crash, and whose vehicle was struck by debris coming from the plane. The plane's occupants suffered serious injuries in the crash, but they were believed not to be life-threatening. The two were air-lifted from the scene of the crash to a local hospital. Both the southbound side of the freeway and arrivals at the John Wayne Airport were closed for several hours after the crash.
If you or a loved one has been injured in a plane or helicopter accident in California, contact the knowledgeable and trial-ready Los Angeles aviation accident lawyers at Magaña, Cathcart & McCarthy for a consultation, at 310-553-6630.