Simi Valley Auto Accident Claims Life of Off-Duty Police Officer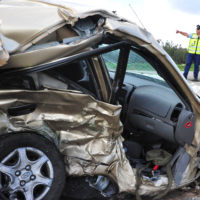 A crash occurring early on New Years' Day resulted in the death of a member of the Los Angeles Police Department. Authorities are continuing to investigate the crash to determine responsibility for the accident, which involved an Uber driver.
The accident occurred in Simi Valley at the intersection of Sycamore Drive and Cochran Street, according to Simi Valley Police Cmdr. Robert Arabian. The off-duty LAPD officer was riding in a Scion tC coupe as a passenger. The vehicle was being driven by her wife, traveling south on Sycamore Drive. The accident victim was a resident of Simi Valley who had been stationed at the LAPD's Devonshire Division in Northridge. The other car involved in the crash was a Nissan Maxima, being driven by an Uber driver and carrying a single passenger, traveling along Cochran Street. At approximately 2:11 am on New Years' Day, Cmdr. Cochran explained that one of the drivers ran a red light and caused the cars to collide. The off-duty LAPD officer was pronounced dead at the scene of the crash. Both drivers, as well as the Uber passenger, were taken to a nearby hospital for treatment of non-life-threatening injuries following the crash.
Cmdr. Cochran explained that officers believed the Uber driver was, as far as they could tell, sober at the time of the crash. A blood sample from the driver of the Scion has been submitted to a lab and is still being analyzed. The accident was captured on a security camera, and officers are continuing to review the footage, but so far they have not been able to conclusively determine responsibility for the crash. Cmdr. Cochran explained,  "We're still trying to figure out the phasing of the lighting (at the signal), was it red for the Scion or was it green for the Scion?"
Evidence such as nearby security camera footage can prove invaluable in a crash. After a crash, a skilled and experienced Los Angeles personal injury attorney will quickly investigate avenues for evidence of responsibility for a crash, such as nearby security or red light cameras and nearby drivers or pedestrians who may have witnessed the crash. The sooner an attorney can begin to investigate after an accident, the better the chances that they will be able to uncover this sort of valuable evidence.
If you've been injured in a California car accident with a careless or reckless driver, find out if you might have a claim for money damages by contacting the experienced and effective Los Angeles personal injury attorneys at Magaña, Cathcart & McCarthy for a consultation, at 310-553-6630.