Side-Impact Collisions Frequently End in Injuries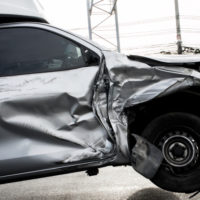 Our recent post described the risk of experiencing an injury accident in an intersection. Many of the collisions that occur in intersections are side-impact crashes. These types of accidents often result in major injuries for victims, as well as devastating property damage to the vehicles involved. Read on to learn more about side-impact crashes, and get experienced legal help if you've been hurt in a California automobile accident.
Side-impact crashes a source of large portion of fatalities
Side-impact crashes include any accident where one vehicle hits another on its side panel. This includes lateral and sideswipe crashes, where both cars are hit on their side. The most dangerous form of side-impact crash is the T-bone, or broadside, crash. In these accidents, a vehicle heading straight collides with the side panel of another vehicle at a 90˚ angle. These types of collisions frequently result in serious injuries and have been pinpointed as the cause of roughly 25% of all motor vehicle fatalities annually. Side-impact crashes are more likely than head-on crashes to result in serious injuries to rear-seat passengers. For this reason, about 1/3 of all children killed in traffic accidents die in side-impact crashes.
Failure to yield often a source of side-impact collisions
Side-impact crashes are frequently the result of one vehicle failing to yield the right-of-way to another. This includes cars turning left in front of oncoming traffic, or cars running red lights when opposing traffic has already begun to move. Many of these crashes are made more dangerous due to the high speed of the vehicles that are running the red lights.
The size of the vehicles involved can also have an impact on the injuries received by those in the broadsided vehicle. When a sedan is rammed by a head-on-facing truck or SUV, the raised truck is more likely to break through the lower-riding sedan's side windows with its front end. Since the windows are not equipped to absorb the heavy impact of the truck, this type of crash often results in serious injuries to those riding in the sedan.
If you or a loved one has been hurt in a side-impact crash in Southern California, find out if you should file a lawsuit based on your injuries by contacting the dedicated and knowledgeable Los Angeles personal injury lawyers at Magaña, Cathcart & McCarthy for a consultation, at 310-553-6630.