Serious Crash Leaves 13 Dead and 31 Injured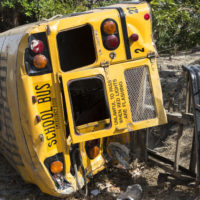 A tragic bus crash has resulted in 13 passengers being fatally injured and another 31 being hurt. The crash occurred along the westbound Interstate 10 freeway near Desert Hot Springs in Riverside County.
The tour bus was on its way back to Los Angeles when the crash occurred. The group of 44 passengers had spent the day at the Red Earth Casino in Salton City. At the time and location of the crash, the bus was approaching a road work area where traffic had slowed. The bus then collided with a tractor-trailer, resulting in the collision that killed 12 passengers and the bus driver, and sent 31 others to the hospital, including the driver of the tractor-trailer. The causes of the crash, possibly including insufficient warning of the road work, excessive speed, or possible fatigue on behalf of the bus driver, are currently being investigated by the National Transportation Safety Board. The crash was the deadliest traffic accident in California in recent decades.
The bus driver, Teodulo Vides, was also the owner of the USA Holiday bus company. For years, Vides had been operating bus trips for Los Angeles-area seniors to nearby gambling spots including local Indian gaming casinos in Southern California, as well as casinos in Las Vegas, San Diego, and Santa Barbara. Vides had not maintained a clean safety record during that time, unfortunately. The USA Holiday company had been rated by the California Highway Patrol as "unsatisfactory" on at least six occasions.
A bus owned by USA Holiday was involved in another fatal crash in 2007, where a sedan's driver and two passengers were killed in a crash in Riverside. While family members of the victims filed a lawsuit against USA Holiday and the bus driver, Paulino Camacho Ceballos, the suit was eventually dismissed. In 2003, a USA Holiday bus crashed with a car on the 60 freeway in Riverside, injuring two passengers in the car. A lawsuit was filed against USA Holiday claiming that the bus involved in the crash was negligently operated, and the case was settled in 2006 for an undisclosed amount. Additionally, Vides was personally cited on several occasions for moving violations and for driving on a suspended license.
If you are in need of legal representation after being injured in a truck or bus crash in California, contact the knowledgeable and seasoned Los Angeles personal injury attorneys at Magaña, Cathcart & McCarthy for a consultation on your case, at 310-553-6630.