Selfies to Blame in Fatal Plane Crash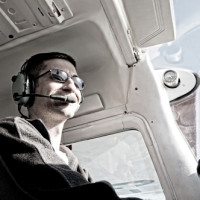 The National Transportation Safety Board (NTSB) has released its Probable Cause determination in a plane crash that took the lives of the pilot and passenger in Colorado last May. Based on its investigation, the NTSB believes that the cause of the crash was due to the pilot and passenger taking selfies in flight.
The crash occurred last May 31 in Watkins, Colorado, about a mile west of the Front Range Airport in Adams County, where the aircraft had departed from. The plane left the runway on its night flight and landed six minutes later after making one flight around the traffic pattern. The craft departed again and left the traffic pattern. This time, the plane made one left turn, went into a stall and spun into the ground, bouncing once and then coming to rest upright in a wheat field. The pilot and his sole passenger were killed in the crash.
The NTSB did not find any mechanical errors with the plane. It did discover, among the wreckage, a GoPro camera from which investigators were able to retrieve the data card. The data contained several files showing the pilot and passengers on flights occurring on May 30 and May 31 taking self-photographs (selfies) with their cell phones, including taking selfies during the night flight with the camera's flash turned on during the takeoff roll, initial climb, and flight in the traffic pattern.
The NTSB concluded that the probable cause of the accident was "the pilot's loss of control and subsequent aerodynamic stall due to spatial disorientation in night instrument meteorological conditions. Contributing to the accident was the pilot's distraction due to his cell phone use while maneuvering at low-altitude."