Safety Group Announces Safest New Cars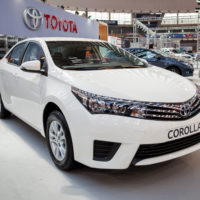 Safety Group Announces Safest New Cars
Each year, vehicle safety technologies get more and more advanced, and features which were once only available as options in luxury models become increasingly standard. The Insurance Institute for Highway Safety (IIHS) publishes an annual list of its Top Safety Picks, rating the year's new models on an increasingly-stringent scale. This year, the number of safety picks fell from last year's, due to increasingly high demands made on cars before they could earn the distinction.
IIHS ranks the new car models on a scale from "good" to "poor" in a number of categories. These include the car's ability to sustain damage in a number of areas such as the roof or front corner, and the car's head restraint system. Each year, IIHS adds new minimum safety requirements needed for a car to earn the Top Safety Pick or the even more elite Top Safety Pick+ distinction. Last year, the safety group began requiring that, in order to be considered a Top Safety Pick+, vehicles would need to have some form of automatic emergency braking system. Since automakers are eager see their vehicles included on the list, the list of grading criteria often becomes influential and leads to greater adoption of the features in a wider array of vehicle models.
This year, IIHS began to review and rate the quality of a vehicle's headlights. Specifically, the reviewers looked at whether or not a vehicle's headlights produced glare, as well as whether they produced a sufficient amount of illumination. Adrian Lund, the president of IIHS, stated, "automakers have not focused enough attention on whether or not headlamps are aimed such that they light up the road for the driver ahead of them." Only seven vehicle models earned a "good" rating on their headlights.
Only 44 vehicle models earned the title of "Top Safety Pick" for the 2017 model year, and only 38 made it to the "Top Safety Pick+" list, whereas 79 vehicles were listed as "Top Safety Pick+" choices in 2015. The manufacturer with the most vehicle models on the Top Safety Pick+ list for 2017 was Toyota with nine, including the Prius, Yaris iA, and Corolla. Several vehicles manufactured by Volvo and Audi also made the list. Only one pickup truck (the Honda Ridgeline) and one minivan (the Chrysler Pacifica) made the list.
If you have been injured in an accident or as a result of another person's negligence, find out if you may be owed money for your injuries by contacting the seasoned and effective Los Angeles personal injury attorneys at Magaña, Cathcart & McCarthy for a consultation, at 310-553-6630.