Relatively Few California Aviation Accidents in January: Only One Serious Injury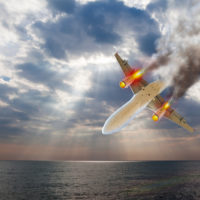 Over 50 aviation accidents nationwide were reported by the National Transportation Safety Board for the month of January. Sadly, eight of those accidents resulted in fatalities, with 11 deaths stemming from plane crashes in Colorado, Nebraska, Tennessee, Texas, Virginia, Wyoming and Utah.
Only two accidents were reported in California in January, and the details of both accidents were strikingly similar. The first accident occurred on January 2nd in Rosamond, north of Palmdale near the Los Angeles County line. The pilot, who was the owner of the plane and its sole occupant, was flying an experimental amateur-built plane. He was five minutes into a flight after takeoff from Rosamond Skypark Airport and about ten miles out when he felt the engine hesitate, correct itself and then hesitate again. The pilot then proceeded to return to Rosamond but lost engine power when still about five miles from the airport. The airplane was substantially damaged in the subsequent off-airport forced landing, but the pilot was uninjured.
Two weeks later, a similar accident occurred in Fresno. This time, a commercial pilot was the sole occupant on-board an experimental, amateur-built plane when this plane also experienced a loss of engine power soon after takeoff, requiring a forced landing that caused substantial damage to the plane. The pilot in this instance was unfortunately seriously injured in the emergency landing.
The recent east coast winter storm may have crippled air travel for much of the country, but passenger safety in the skies prevailed. The NTSB did report an incident at Newark Liberty International Airport on January 24th, where a McDonnell Douglas MD 88 clipped another plane on the Delta Air Lines ramp. No injuries were reported, nor any other serious ramifications, such as a fuel leak. The NTSB does not intend to travel to the site in support of its investigation, although it will prepare a report as it does with all aviation accidents and incidents.