Recent Crash Takes Life of Seasoned Pilot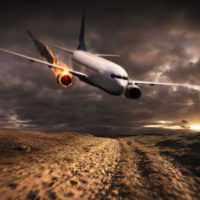 A crash in the Sacramento County town of Rio Linda has resulted in the death of the pilot and sole occupant of an experimental aircraft. The man was an experienced pilot and flight instructor who had crafted the experimental plane at his home.
Home-built aircraft fails to make emergency landing in airport
On the day of the accident, pilot Marshall Michaelian, 71, was flying his home-built Lancair IV-TP out of Auburn Municipal Airport in Auburn, California. Michaelian was headed for San Carlos Airport in San Carlos, California. The aircraft took off at about 2:55 pm. While no conversations were recorded on the plane or with air traffic controller towers, the aircraft's GPS receiver showed investigators the data plots and flight tracks entered by the pilot. By the time the plane had reached 6,800 feet in altitude four minutes after takeoff, it began a gradual descent and changed direction slightly. Several minutes later, the plane again made a turn toward the left. The plane was headed for runway 16 at McClellan Airport.
Plane comes to rest in residential chicken coop
During the final hits recorded on the flight track, the aircraft increased its speed while decreasing its altitude by over 500 feet. The aircraft was positioned over a residential neighborhood during its descent, and numerous witnesses reported watching the plane during its final moments in the air. The Lancair struck several power lines during its descent, causing a brief power outage for the surrounding area. The aircraft crashed into a chicken coop in the backyard of a private home, sustaining major damage in doing so. The residents of the home described watching the aircraft go down in their backyard. None of the home's residents were injured as a result of the crash, nor was the main residence damaged, but the pilot was declared dead at the scene of the accident.
Lancair is a manufacturer of kit planes. The National Transportation Safety Board reports that, since 1989, 28 Lancair planes have crashed, and 11 of those crashes resulted in at least one fatality. According to the NTSB, half of these crashes were due to a failure to maintain sufficient speed. Investigators have not yet determined the cause of the crash in this case.
If you or a loved one has been injured in a plane accident in California, find out about your legal right to money damages by contacting the knowledgeable and experienced Los Angeles aviation accident attorneys at Magaña, Cathcart & McCarthy for a consultation, at 310-553-6630.