Recent Cessna Crash Results in Four Fatalities and Damage to Homes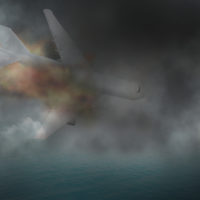 An aviation accident in Riverside has damaged two houses and destroyed the aircraft involved. Among the five people aboard the plane, four have died, and the fifth person remains in the hospital with serious injuries.
The accident occurred on Monday, February 27th near the Riverside Municipal Airport. The plane, a Cessna T310Q, was scheduled to fly to San Jose International Airport. The plane had been used to bring members of a family to Southern California for a cheerleading competition being held at Disney California Adventure. At the time of the crash, the plane was carrying a 15-year-old girl, her mother, and her grandparents.
According to a witness to the crash, the plane had had an unsuccessful takeoff attempt earlier in the afternoon, in the midst of heavy rainfall. The plane landed, and the passengers waited out the rain in the airport's café. One witness to the failed takeoff attempt reported that the plane "didn't start right, something was wrong." Prior to a second takeoff attempt, the pilot had conducted a visual inspection of the aircraft, including an inspection of the engines. He started the right engine without trouble, but had to make several attempts at starting the left engine to get it to start.
The pilot contacted the air traffic control tower about the engine problem. According to the National Transportation Safety Board's (NTSB) investigation, the pilot and the controller had difficulty communicating, with the controller being forced to repeat instructions to the pilot repeatedly before the pilot was able to repeat those instructions back to the tower. The plane taxied and took off successfully, but a witness to the takeoff noted that the back of the plane shook during takeoff, almost as though it was "hitting the floor."
As the plane ascended, it began to hook left and descend toward the ground. The plane crashed in a residential neighborhood, clipping a chimney before impacting a house. The crash started a fire which engulfed one home and spread to others. Despite the damage to the homes and trail of debris left by the plane, the injuries were limited to those on board the plane. Three people, including the pilot, were killed upon impact, and a fourth woman died in the hospital several days later. The NTSB investigation into the cause of the crash is ongoing.
If you've been injured in a plane crash in Southern California, find out if you might have a claim for damages by contacting the seasoned and knowledgeable Los Angeles aviation accident lawyers at Magaña, Cathcart & McCarthy for a consultation on your case, at 310-553-6630.