Recent Aircraft Accidents Occur at Southern California Airports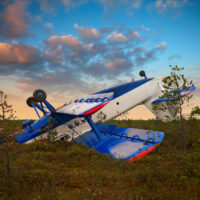 Two aircraft have recently crashed during takeoff or landing in two different Southern California regional airports. Investigations are ongoing into the causes of the crashes.
On August 24, 2016, a crash occurred at the Fullerton Airport in the Orange County city of Fullerton. A Siai-Marchetti SF260 experienced difficulty during takeoff. The flight, taking off around 6 p.m., was being operated by the fantasy flight school Air Combat USA. This company offers customers the chance to participate in two- to three-hour aerobatic training flights in Siai-Marchetti aircraft, simulating air-to-air combat. The plane's preflight, taxi and initial takeoff all seemed normal. However, as the plane was lifting off, the pilot felt the aircraft start to roll to the left. He attempted to correct this by activating the right aileron and rudder, but the plane continued pulling to the left, and ultimately hit the ground on its left side. The aircraft skidded across the runway, across a flight school ramp. It impacted four other parked aircraft and ultimately came to rest after plowing into a hangar. While there was a small fuel leak and subsequent small fire, the craft did not burst into flame, and the plane's two occupants were extracted from the plane with minimal injuries. The causes for the plane's malfunction are not yet known.
On the same day, a small craft flipped during takeoff at the Fallbrook Community Airpark, located in northeast San Diego county. The Cessna 182 was being piloted as part of an "authorized proficiency flight" as part of the Civil Air Patrol, an organization that uses aircraft supplied by the federal government for search-and-rescue and disaster relief. Immediately after landing, the small craft crashed off the end of the runway and flipped over. The two occupants, both Civil Air Patrol pilots and in their late 70s, managed to escape the upside-down plane without injury. It is unclear whether mechanical failure or operator error caused the crash.
If you have been injured in the California crash of a small plane, helicopter, or other aircraft, seek legal counsel with the knowledge and experience necessary to pursue complex aviation accident claims, and contact Los Angeles aviation accident lawyers at Magaña, Cathcart & McCarthy for a consultation on your case, at 310-553-6630.