Over 30 Los Angeles Students and Adults Killed and Injured in Freeway Bus and Truck Collision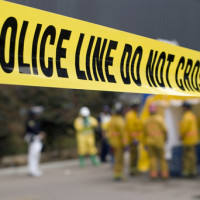 Information continues to filter in on the bus crash that killed and injured dozens of Los Angeles area high school students on their way to a college campus tour last week. Ten people are counted dead from the accident, including five students and five adults. Nine people were pronounced dead on the scene, while another individual died later after being transported to the UC Davis Medical Center.
The accident occurred after 5:30 pm on April 10th near the town of Orland in northern California. A charter bus carrying students to a college tour of Humboldt State University was travelling northbound on Interstate 5 when it collided with a FedEx semi truck. According to the California Highway Patrol, the big rig was heading southbound on the 5 when it crossed the center median. The truck swiped a Nissan Altima before it struck the bus head-on. The truck and the bus both burst into flames, eventually leaving nothing but their charred hulls behind.
The drivers of the truck and the bus were both killed in the collision. Of the 47 passengers on board the bus, more than 30 suffered injuries in the accident and were transported to local hospitals.
The students on the bus came from 16 different high schools in the Los Angeles Unified School District (LAUSD) system, as well as other Southern California districts. The trip was organized by Humboldt State University, which offers traditionally underrepresented students a preview of college life with its Preview Plus Program. Two other buses, one from Southern California and another from Fresno, were also part of the trip, but they had already arrived on campus at the time of the accident.
Highway truck accidents often end in tragedy for the occupants of all the vehicles involved. A 10 to 40-ton truck travelling at highway speeds delivers incredible force to whatever object it strikes. Considering that the other vehicle was itself a large, heavy vehicle, also traveling at highway speeds in a head-on collision, it is a wonder that more people were not injured or killed in last week's tragedy.
The fact that so many of this accident's victims were young people about to embark on the beginning of their adult lives only makes this incident more heartbreaking. Our hearts go out to all the victims and their families in this tragedy. For more information about the accident and its aftermath, Humboldt State University is maintaining a webpage of updates on the accident.