Over 100 Aviation Accidents in August Leave Nearly Fifty Dead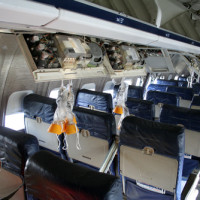 As of this writing, 128 aviation accidents and incidents have been reported for the month of August in the United States, according to statistics compiled by the National Transportation Safety Board (NTSB). Although most reports are still in their preliminary stages, probable cause has so far been determined in five of the accidents, and another five have reached the factual stage. The data collected thus far reveals 49 deaths having resulted from 24 of these accidents. In one accident, four people were fatally injured when a Rockwell International 690B turboprop, also known as a Commander 690B, crashed into two homes in New Haven, Connecticut on a flight from Teterboro, New Jersey to New Haven. Those killed included the pilot and a passenger, along with two people on the ground.
An aviation accident is defined by the NTSB as an occurrence involving death, serious injury, or substantial damage to the aircraft any time between the time any person boards the aircraft with the intention of flight and the time when all such persons have disembarked. An incident is defined as "an occurrence other than an accident, associated with the operation of an aircraft, which affects or could affect the safety of operations." Of the 128 occurrences so far reported for August, only one was classified as an incident; all the rest were nonfatal or fatal accidents.
Repots of the various accidents can be found online at the NTSB aviation accident database. Preliminary reports may contain errors and are subject to change as they progress to the probable cause and factual stages of accident investigation.