October Aviation Accidents from Catalina to Compton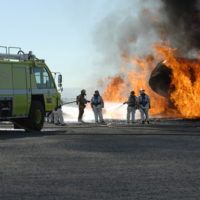 Of the eight airplane accidents in California reported for the month of October to-date, two occurred in Los Angeles County, although in vastly different parts of the county. One crash occurred on Santa Catalina, a two-mile long island lying about 22 miles off the LA coast, which receives about one million tourists a year. The other crash happened a week later in Compton, an inner-city working class suburb of Los Angeles just south of downtown, which gained a notorious reputation for drugs, crime and gang violence in recent decades.
The first crash occurred in the late afternoon of Thursday, October 1st. A single-engine Cessna 172 was in the process of landing at Catalina Island Airport in the Sky, when the plane missed the runway and fell onto the roadway. Three people were on board the plane, and all three were able to walk away from the crash under their own power. The National Transportation Safety Board (NTSB) issued a preliminary report on the accident, but rather than providing the usual synopsis of the circumstances which led to the crash, instead stated that the agency will not be travelling to the site to investigate the crash but will rely on data provided by the FAA and other entities to prepare its report.
On the following Wednesday afternoon, October 7th, a Piper PA-28-180 was in the process of taking off from Compton/Woodley Airport in Compton. While still over the runway, the plane experienced a total loss of engine power. The student pilot initiated a left hand turn, and the plane briefly regained power before losing it again, causing the pilot to make a forced landing into a residential neighborhood. The pilot suffered serious injuries in the crash, but no other injuries or fatalities were included in the NTSB's preliminary report of the accident.