No Criminal Charges for Sheriff's Deputy in Fatal Los Angeles Bicycle Accident: Wrongful Death Lawsuit Still Proceeds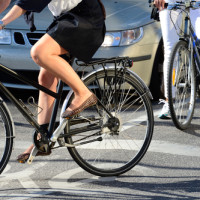 The Los Angeles County District Attorney announced last week that it would not be pressing charges against an LASD deputy sheriff who struck and killed a bicyclist in Calabasas last December due to distracted driving. Milton Olin, Jr. was riding his bicycle on Mulholland Highway when he was struck and killed by a patrol car driven by Deputy Sheriff Andrew Wood. Wood had been typing into his Mobile Digital Computer while driving and drifted into the bicycle lane due to his failure to pay attention to his driving.
California's hands-free cell phone law can be found in section 23123 of the California Vehicle Code. This section prohibits using a cell phone while driving, unless done in a hands-free manner, such as with a headset or Bluetooth technology. Section 23123.5 prohibits texting while driving, unless done in a voice-operated, hands-free manner. This section prohibits reading, writing and sending texts while driving. A violation of either statute is classified as an infraction punishable by a small fine. Both laws also exempt emergency services professionals, who are apparently authorized to use electronic wireless communications devices while operating an authorized emergency vehicle in the course and scope of their duties.
Even though Wood's use of the mobile device while driving was not a violation of the traffic law due to the exception for police officers, it was still within the discretion of the prosecutors whether or not to charge Wood with a crime such as Vehicular Manslaughter for causing a death through negligence. It appears Wood may have been speeding as well at the time of the accident, although prosecutors may have felt they did not have strong enough evidence to prove Wood was criminally negligent beyond a reasonable doubt.
Olin's family has filed a wrongful death lawsuit against Wood, the Sheriff's Department and Los Angeles County. In the civil lawsuit, the family will have to prove its case by a preponderance of the evidence, meaning that the evidence weighs more in their favor than for the defense. This is an easier burden than the "reasonable doubt" standard the state would have had to meet in a criminal prosecution.
Olin was a prominent entertainment lawyer who had previously served as Chief Operating Officer at A&M Records and the online music service Napster.