More Cars with Autopilot Poised to Enter US Roads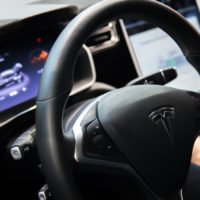 Cars that can drive themselves have been on the nation's roads for some time, but only in limited numbers. Google has spent years developing and testing driverless cars. Likewise, Tesla has been operating a beta-test of its self-driving software on a select number of its vehicles. Beginning in December of 2016, the number of cars that are driving under their own control is slated to increase by a substantial number, despite safety concerns regarding the new technology and the potential for serious or deadly car accidents involving driverless cars.
Tesla founder and CEO stated earlier this month that self-driving features would begin rolling out in new models of its vehicles before the end of 2016. In October, Musk announced that all new models built by the electric car manufacturer would have the hardware capabilities to drive autonomously, but that software to control the feature was still in development. Musk stated in a tweet on November 26, 2016 that the promised software updates to enable what the company calls "Enhanced Autopilot" would begin to roll out in a matter of weeks.
Federal regulators have been scrutinizing self-driving technologies closely over recent months but have not yet issued formal regulations or laws governing the implementation of such technologies. In September of 2016, the National Highway Traffic Safety Administration published a set of voluntary guidelines for manufacturers of cars that offer self-driving systems. The guidelines include a suggested 15-point safety assessment that lists suggested testing methods and safeguards to implement in the event that a self-driving system fails. However, these guidelines are not binding, and their ambiguity has left automakers frustrated by a lack of guidance.
Safety and consumer advocacy nonprofit Consumer Reports has expressed strong reservations about self-driving cars, and specifically Tesla's aggressive push to introduce autopilot features to the market prior to what it considers adequate testing and refinement. The organization claims that Tesla has overstated the self-driving car's abilities to function autonomously, giving drivers the misunderstanding that they can adopt a more hands-off approach behind the wheel than is truly safe. Consumer Reports vice president Laura MacCleery stated, "In the long run, advanced active safety technologies in vehicles could make our roads safer. But today, we're deeply concerned that consumers are being sold a pile of promises about unproven technology. 'Autopilot' can't actually drive the car, yet it allows consumers to have their hands off the steering wheel for minutes at a time. Tesla should disable automatic steering in its cars until it updates the program to verify that the driver's hands are on the wheel."
If you have been hurt in an accident with an irresponsible or inattentive driver while on the road in Southern California, contact the effective and knowledgeable Los Angeles personal injury attorneys at Magaña, Cathcart & McCarthy for a consultation on your case, at 310-553-6630.