Medical Mistakes Result from Misidentification of Patients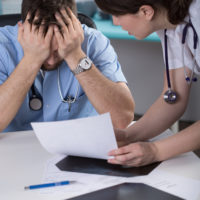 A recent report has revealed that mistaken identification of patients within medical treatment facilities—so-called "wrong-patient errors"—are common, and can be the source of serious harm to patients. Experts in the field have identified potential solutions to the issue that could be introduced at a relatively-low cost, but which few hospitals implement.
The recent report was the result of a study conducted by the nonprofit organization ECRI Institute, which looks at medical care and patient safety. The study examined over 7,600 voluntarily-reported incidents of wrong-patient errors from 181 medical facilities across the country, all occurring within a 32-week span. According to their analysis, the researchers found that in over 5,000 of these cases, the misidentification was discovered before any harm whatsoever could occur to the patient. Among the cases where some harm resulted, 8% of those incidents caused the patient either temporary or permanent harm. In two cases, doctors and nurses needed to intervene to save the patient's life, and in an additional two cases, the patient died after a misidentification error. In one example included in the ECRI report, the wrong records were pulled up for a patient, and when that patient entered a state of distress, he was not resuscitated, as the erroneous records contained a do-not-resuscitate order. In another case, a misidentification resulted in a different patient's test results being attributed to a patient which led surgeons to believe the patient had been cleared for surgery. By the day after the surgery was performed, the patient had died.
The authors of the ECRI report offered several suggestions as to how such errors can be minimized. The authors noted that approximately 20% of hospitals include photographs in their patient records, and that the inclusion of photographs could make it immediately clear that the wrong patient's records were before them. Another suggestion was to carefully ensure that patients wear a wristband at all times, and that the name on the wristband is double-checked prior to any testing or surgical procedure. Additionally, the authors noted the importance of referring to patients not by their room or bed number, which can easily change, but by their name. These changes, which could come with little to no cost to a hospital, could save lives and prevent serious, life-altering injury to patients.
If you have been injured by an incident of medical malpractice in California and believe you may have a legal claim for damages, contact the compassionate, effective, and trial-ready Los Angeles personal injury lawyers at Magaña, Cathcart & McCarthy for a consultation on your claims, at 310-553-6630.