Med Flight Plane Crash Results in Loss of Four Lives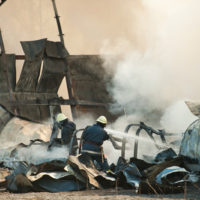 A crash in Northern California has taken the life of four persons onboard a medical transport plane. The flight had begun at the northernmost edge of California, headed toward Oakland, when the plane went down.
The plane, a Piper PA-31T Cheyenne II, was a member of the Cal-Ore Life Flight's fleet, and was transporting a patient, flight nurse, and transport medic at the time of the crash. At approximately 1:00 am on Friday, July 29, 2016, the plane was located around 360 miles from Crescent City, near the California/Oregon border, when the pilot contacted the Seattle air route traffic control center to report that he smelled smoke in the cockpit, and that he planned to return to Crescent City. The air traffic control specialist continued communicating with the pilot for several minutes, establishing that the plane had three passengers on board and appeared to be losing power. The air traffic control specialist quickly lost contact with the aircraft.
A woman camping near Arcata, California, reported to a National Transportation Safety Board investigator that, during the early morning hours of July 29, she heard a plane circling overhead, followed by several seconds of silence. When she looked out her tent window, she saw a large flash, followed by a second flash and a loud rumble. Investigators searched extensively for the remains of the plane in the heavily forested area in which it crashed, ultimately finding the debris the following afternoon. Pieces of the plane were spread along a 2400-foot path. It appeared that the plane experienced an in-flight breakup before impact. The front section of the fuselage experienced fire damage. While the engines separated from their firewalls and were damaged by impact, they did not show thermal damage. When examining control continuity, investigators determined that, while there were a number of missing cabling and fractures in the system, the damage present appeared consistent with tension overload.
Medical Flight accidents are particularly tragic, since an already-injured individual is victimized by the crash. These accidents may involve multiple responsible parties, such as the pilot, the plane manufacturer, the shop responsible for the aircraft's mechanical maintenance, and the medical transport company operating the flight. At Magaña Cathcart & McCarthy, our lawyers are experienced in handling med flight accidents, and will use this experience and knowledge of the law to skillfully pursue claims on behalf of survivors or their bereaved family members.
If you or someone you love has been injured in a California aviation accident, seek out legal representation with the experience and technical knowledge to represent you in a claim for damages, and contact the skilled and trial-ready Los Angeles aircraft accident attorneys at Magaña, Cathcart & McCarthy for a consultation on your claims, at 310-553-6630.