Los Angeles Man Fatally Shot After Car Crash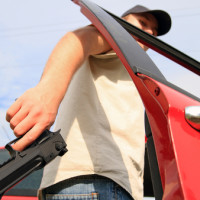 In a bizarre tragedy, a man was fatally shot last Saturday, January 10th, by the driver of the other vehicle. The accident occurred in the Los Angeles community of Willowbrook, on East 121st Street near the corner of Main Street and El Segundo Boulevard. The victim of the shooting, Darrell Orlando Daniels, first tried to exchange information with the other driver at the scene of the accident, but that man refused. Instead, the other driver demanded that Daniels pay him $500 for the damage done to his vehicle. When Daniels noticed that the other man was in possession of a firearm, Daniels got in his car and drove to his home, about a half mile away. The other driver followed Daniels to his home and again demanded the $500. Daniels again refused, and the driver left, but returned again about an hour later and shot Daniels multiple times in the chest. He was pronounced dead at the scene.
Police have not yet identified the suspect in the shooting and are urging anyone with information to contact the Sheriff's Department at (323) 890-5500.
Exchanging Information is Required After any Auto Accident
Although the police do not have to be called in a non-injury car accident, exchanging information at the scene of an accident involving any damage is required by law. Section 16025 of the California Vehicle Code requires every driver involved in a collision, unless they are physically incapable at the time, to exchange the following information with the other driver or drivers:
Name
Current residence address
Driver's license number
Vehicle identification number
Current residence address of the registered owner of the vehicle
Evidence of financial responsibility
The law clearly states that if "evidence of financial responsibility" is insurance, the driver must provide the name and address of the insurance company and the insurance policy number.
Failure to comply with this law is an infraction punishable by a $250 fine. It is also an important step toward receiving compensation or protecting your rights in the event a claim is filed against you. Of course, if you fear for your safety because the other driver is belligerent or potentially violent, calling the police or leaving the scene may be the prudent step to take. Unfortunately, that was not enough to prevent the senseless and needless taking of a life as happened here.