Los Angeles' First Year of "Vision Zero" Program Fails to Reduce Traffic Deaths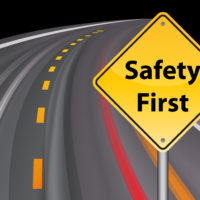 Vision Zero is an international initiative originating from Sweden which seeks to create a world where no human lives are lost on highways and roads. Many cities around the world have adopted their own initiatives under the Vision Zero program, including Los Angeles. According to statistics released last week, however, the Vision Zero program has not yet been effective in reducing deaths on Los Angeles roadways. In fact, the rate of fatalities in traffic accidents has risen by a substantial margin in the first year of Los Angeles' Vision Zero program.
Vision Zero fails to reduce roadway deaths
LA Mayor Eric Garcetti signed an executive order in August of 2015 which implemented the Vision Zero program. The program had the stated goals of reducing traffic deaths by 20% by 2017, and reducing them to zero by 2025. Unfortunately, the program has not yet been effective in reducing the number of deaths on LA's dangerous roads. The LA Department of Transportation's General manager, Seleta Reynolds, announced in a press release earlier this year that "traffic crashes are the leading cause of death for children in LA County, and Los Angeles experienced a 40 percent increase in traffic deaths in 2016." So far, 2017 has seen no improvement to these rates; in fact there has to date been a 22% rise in traffic deaths over the same period of 2016.
Pedestrian deaths a growing area of concern
One of the major areas of concern is the rate of pedestrian fatalities. 2016 saw a 3% increase in the number of pedestrian collisions, but there was a 58% increase in pedestrian fatalities during that time. A Vision Zero task force found that 66% of all pedestrian deaths occurred on 6% of Los Angeles' streets, known as High Injury Networks. One of the leading reasons for these fatalities is driver speed. According to studies, while there is a 5% chance of death when a pedestrian is struck by a car traveling at 20 mph, the chances of fatal injury increase to 45% when that vehicle is traveling at 30 mph. Accordingly, Los Angeles has focused on identifying High Injury Networks and strictly enforcing speed limits in those areas, but the city has not yet made substantial progress on the problem.
If you've been injured in a traffic accident or otherwise hurt by someone else's negligence in Southern California, contact the aggressive and dedicated Los Angeles personal injury lawyers at Magaña, Cathcart & McCarthy for a consultation, at 310-553-6630.