Lane-Departure Warning Systems Useful in Preventing Automobile Accidents, Studies Find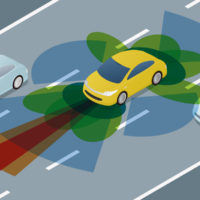 We've all found ourselves drifting out of our lane of traffic at one time or another. It's easy to do—perhaps becoming briefly lost in thought or distracted by something in our vehicle, we momentarily veer to one side. That said, these brief lapses in attention can have serious consequences. Lane-departure warning systems offer a safeguard against automobile accidents caused by lane departures, and a new report presents evidence that the systems are effective in preventing crashes and resulting injuries.
Report indicates success of feature
The Insurance Institute for Highway Safety (IIHS) is currently in the process of conducting evidence-based studies of the effectiveness of new safety technologies. Most recently, the safety group looked at lane-departure warning systems, which use sensors to monitor whether a vehicle remains in its lane and provides a warning sound or vibration to drivers who veer out of their lane. This feature is not yet commonly found on standard model vehicles; in fact, only six percent of all 2017 new vehicle models included the feature on basic models, and 57% of cars had the feature available as an add-on.
In particular, the IIHS considered a study which compared the crash rates of vehicles that came equipped with lane-departure warning systems and those that did not. The study found that vehicles with lane-departure warning systems were involved in 11% fewer collisions total and had 21% fewer injury accidents. Based on this result, the IIHS explained that, if every vehicle had had such a system installed, there would have been nearly 85,000 fewer accidents and 55,000 fewer injuries in the single year during which the study was conducted.
Even better results may be possible
This study was one of the broadest so far conducted on the success of lane-departure warning systems, but it was not the first. In fact, an earlier study on tractor-trailers that were equipped with lane-departure warning systems found an even more dramatic result. That study found a reduction in the rate of accidents resulting from lane departures was cut in half among trucks with the feature installed. Researchers posit that the average passenger vehicle driver is more likely to have disabled the feature, finding the buzzing annoying, than tractor-trailer drivers who face greater difficulty in staying in their lane.
Regardless of whether their car is equipped with a lane departure warning system or not, drivers who cause an accident by drifting into your lane or making an unsafe lane change can be liable for the damage they cause. If you or someone you love has been hurt in a lane-departure crash, find out if you have a legal claim for money damages based on your injuries by calling the seasoned and knowledgeable Los Angeles personal injury lawyers at Magaña, Cathcart & McCarthy for a consultation, at 310-553-6630.