Kit Plane Lands on I-15, Kills Parked Motorist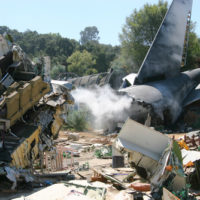 Around 9:00 in the morning on April 2nd, a Lancair IV-P crashed on the ground and collided with a parked car on the shoulder of Interstate 15 in northern San Diego County, killing one of the occupants of the vehicle. The pilot and a passenger of the plane, as well as the other three occupants of the car, all sustained serious injuries in the crash.
The experimental, amateur-built four-seater had taken off from Gillespie Field in San Diego about 15 minutes prior to the accident. According to the preliminary report prepared by the National Transportation Safety Board (NTSB), "Witnesses observed the airplane approaching the freeway, and noted that the engine sound was quiet." Erratic flying was also reported. Ground scars with blue paint transfer marks from the belly of the plane indicate that the craft did not have its landing gear down when it collided with the ground.
It appears from the ground scars that the plane bounced once before colliding with a Nissan 4-door sedan which was parked on the shoulder of I-15, while the driver was manipulating his mobile phone. The nose of the plane collided with the left rear portion of the trunk and intruded into the right back seat of the car, fatally injuring the occupant seated in that position. The propeller and the engine remained enmeshed in the car after the accident.
The accident occurred on I-15 in the area of the town of Fallbrook in northern San Diego County, just east of the Camp Pendleton Marine Base. The crash site was inspected by the NTSB and the FAA, which established control continuity for the ailerons, elevators and rudder. The plane, which was substantially damaged, has been moved off-site for further investigation.
The aircraft involved in the accident had formerly been owned by Matt Nokes, who played eleven seasons in the major leagues for five different teams, including the San Francisco Giants and the New York Yankees. Interestingly, KPIX, the CBS affiliate in San Francisco, reports that Mr. Nokes had to make an emergency landing of the plane on I-15 in northern San Diego County back in February of 2000, due to a loss of engine power. The plane was safely landed in that incident.
For legal advice and assistance with a catastrophic injury or fatal airplane accident involving a loved one in southern California, contact the Los Angeles aviation accident attorneys at Magaña, Cathcart & McCarthy at 310-553-6630.