Isolated California Town Loses Itinerant Doctor to Plane Crash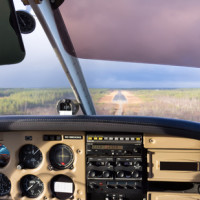 On the morning of Friday, November 21st, a single-engine Piper PA24 went down near the South Fork of the Eel River in northern California, in southern Humboldt County. The pilot, who was the airplane's sole occupant, died in the crash.
The pilot, Dr. Douglas Pleatman, had taken off from Cameron Park and was en route to Garberville when the accident occurred. Dr. Pleatman was only about 2,260 feet south of the approach end of the runway when his plane crashed into a tree and cartwheeled into the river below, coming to rest partially in the water on a gravel/sand embankment. The left wing of the plane separated in the crash, and the entire airframe became nearly submerged as the river's water level quickly rose.
Doctor Pleatman lived in Cameron Park and worked at Urgent Care Center of Folsom and Mercy Folsom Hospital. Once a month he made the 155 nautical mile cross-country trip to Garberville, to serve for a week as the emergency room physician and medical director in the small community of less than 1,000. He is remembered as an avid, seasoned pilot, parachutist and jumpmaster, as well as a dedicated physician.
The cause of the crash is currently being investigated by the National Transportation Safety Board, which has been examining the wreckage and the scene of the accident. According to several witnesses, the plane was quieter than normal or emitting no noise at all, indicating a probable loss of engine power that may have caused the accident.