InFuse Spinal Fusion Device Blamed for Bone Overgrowth and Other Injuries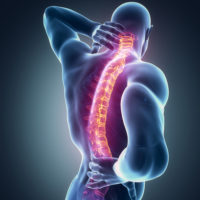 The University of California has recently agreed to settle multiple plaintiffs' claims that a surgeon employed by University of California Los Angeles (UCLA) who had financial ties to the device's manufacturer conducted surgeries using the fusion device that resulted in painful side effects for the patients.
The Medtronic InFuse bone graft medical device was created as a means to conduct spinal fusion surgery as a treatment for back pain. The device contains a liquid component which encourages bone growth and fusion of the vertebrae. The device first received FDA approval in 2002 for one specific form of spinal surgery, and received subsequent approval for two other forms of surgery in 2004 and 2008.
Medtronic has made a great deal of profit from doctors' off-label uses of the device. An off-label use occurs when a doctor prescribes a drug or uses a medical device for a purpose for which the device or drug did not receive FDA approval. While it is legal for doctors to prescribe off-label uses for drugs or devices, the manufacturers themselves may not promote these untested, unapproved off-label uses. Medtronic has been the subject of intense scrutiny from federal lawmakers and company shareholders who claim that the manufacturers used improper influence to achieve initial FDA approval, and have also been guilty of promoting off-label uses. The corporation has been accused of providing financial incentives to doctors who use the InFuse for off-label purposes. One off-label use that gained particular popularity was for cervical spinal procedures. In 2008, the FDA issued a warning that the InFuse could cause bone overgrowth when used in cervical spinal procedures. Sadly, that is exactly what came to pass for one patient.
One of the recently-settled claims was made by the subject of a surgery conducted at UCLA on a patient with cervical spine pain. His surgeon, who failed to disclose his financial ties to Medtronic, used the InFuse device as a way to treat the patient's cervical spinal pain, despite the earlier-issued FDA warning. Sadly, the patient experienced bone overgrowth and nerve damage, among other injuries. The patient will receive a portion of the $8.5 million settlement which the University of California agreed to pay for the claims.
If you or someone you love has been injured by the Medtronic InFuse Spinal Fusion Device, or by another dangerous medical device, seek the compensation you may be owed for ensuing medical expenses, pain and suffering, and lost wages by contacting the compassionate and determined Los Angeles medical device attorneys at Magaña, Cathcart & McCarthy for a consultation, at 310-553-6630.