IKEA Agrees to $50 Million Settlement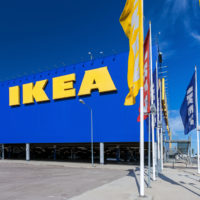 No parent should ever have to suffer the loss of a small child. Nevertheless, at least four families across the US have lost a young member of their family in accidents caused by defective products; losses made even more heart-wrenching when considering that they could have been so easily prevented. Swedish furniture maker IKEA has now agreed to a settlement that will provide $50 million in damages to three of the four families rocked by this major loss.
The four young child deaths all resulted from an IKEA-made dresser from the MALM line toppling over due to their top-heavy design. The Consumer Product Safety Commission (CPSC) had compelled IKEA to recall an unheard-of 29 million pieces of furniture from the MALM line in June of 2016, after numerous injuries and deaths caused by the dressers had been reported to the CPSC. IKEA had been slow to act on the safety problem presented by the MALM line of furniture. Initially, the furniture manufacturer had only offered repair kits to its customers, providing them with a way to anchor their furniture to the wall, but not explaining the extraordinary risks that persisted by having the dressers in their home. Sadly, the offer of repair kits was insufficient to prevent harm to customers. In one case, a family had requested a wall anchor kit from IKEA and was waiting for it to arrive when their dresser tipped over and seriously injured their toddler.
The recent settlement was of a lawsuit filed in Philadelphia by three families of toddlers who were killed by toppling IKEA furniture. The families claimed that IKEA had long been aware of the risks posed by the dressers, but had continued to sell them in their stores. The settlement came not long after IKEA turned over documents during the discovery phase that, according to one of the plaintiffs' attorneys, "100 percent" provided leverage to the families in obtaining a favorable settlement. The parents will now split the $50 million settlement, with a portion going to their attorneys. In exchange, the parents have agreed to relinquish back to IKEA the documents that made IKEA appear to bear even greater culpability in failing to recall the dressers sooner. For its part, IKEA claims that the parents had been negligent in failing to anchor the dressers to the wall. This is IKEA's third multi-million-dollar settlement in eight years, concluding claims made by bereaved parents against IKEA after a piece of furniture toppled and killed their child.
If you or someone you love has been injured by a dangerous or defective product, find out if you might have a claim for money damages against the manufacturer, supplier, or retailer by contacting the compassionate and seasoned Los Angeles product liability attorneys at Magaña, Cathcart & McCarthy for a consultation on your case, at 310-553-6630.