Five-Car Accident in Van Nuys Sends Six to Hospital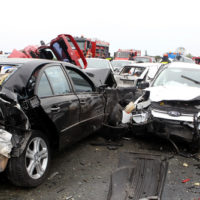 An accident involving five cars at a busy Van Nuys intersection resulted in injuries to six different drivers and passengers, one so seriously injured that initial reports from the scene of the accident stated that the injuries had been fatal.
The accident appears to have resulted from a sedan traveling at an extremely high speed. At around 6:05 am on Tuesday, March 8, Alex Wilright of Sherman Oaks could be seen traveling north on Sepulveda Boulevard in Van Nuys at an alarming speed. Los Angeles Police Department investigators report that nearby security cameras recorded Wilright traveling in his 2016 Hyundai Sonata at what appeared to be speeds approaching 100 mph. By the time the Sonata reached the intersection of Sepulveda and Vanowen Street, the light had turned red. The Sonata hit a GMC Yukon which was heading south on Sepulveda, with both cars striking on the passenger side. The Yukon was thrown 160 feet backward down Sepulveda with the force of the impact. The Sonata then began to spin, hitting a Toyota Corolla, rolling across a Toyota Prius, and ultimately landing on top of a Toyota Tacoma. Wilright and others with serious injuries were transported to trauma centers, with Wilright the most seriously injured of those involved in the accident.
In 2012, Wilright participated in the 2012 Olympic trials, attempting to represent America in the 400 meter hurdle event. Wilright came in twelfth. He relocated to Los Angeles after setting records as a college track and field athlete and as a second team All-American in the 400 meter hurdles. Wilright has since made a career as a print and commercial model.
Multiple-car accidents can present particularly complex questions of liability. In a case such as this, the accident was precipitated by what appeared to be reckless driving on behalf of Wilright. However, if you've been injured in an accident where multiple cars are involved, there may be good reason to investigate whether other drivers' insurers may also be liable for a portion of your medical expenses or pain and suffering for their own insured's negligent driving which may have worsened your injuries. Working with an attorney can help you navigate these complex claims and ensure that you receive the compensation you're owed from all responsible parties.
If you've been injured in a car or truck accident in the Los Angeles area, contact the experienced and compassionate personal injury attorneys at Magaña, Cathcart & McCarthy for a consultation on your claims, at 310-553-6630.