Fatal Plane Crash Outside of Los Angeles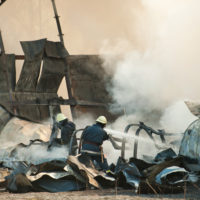 A recent crash of a vintage aircraft took the life of the craft's pilot while he was on his way to a gathering for Soviet aircraft enthusiasts. The reasons for the crash remain under investigation by the National Transportation Safety Board.
The aircraft that crashed was a Nanchang CJ6A. The pilot was flying in formation with a group of friends when the crash occurred and was the only occupant of the aircraft at the time of the crash. The four pilots flying in formation had departed from the Phoenix, Arizona airport on the morning of April 27, 2017, the day of the accident. The group had stopped over at the Apple Valley Airport in Apple Valley, California mid-day to refuel their planes and have lunch. The group was briefly grounded due to weather but took off at around 1:00 pm that afternoon. The group was headed for Porterville, California, where the gathering showcasing Soviet aircraft was taking place.
When the group of four approached Tehachapi, they were at about 7,500 feet and needed to avoid some broken clouds as they made their way. The planes descended slightly, during which descent the lead pilot lost visual contact with the plane that crashed. The planes had been in a diamond formation, and the accident plane had previously been to the left and rear of the lead pilot. When the lead pilot asked over the radio whether the accident pilot was alright, he replied that he was. The lead pilot asked again a moment later, and the pilot again said that he was ok. The pilot who had previously been in the rear reported that the accident pilot was now behind him, and subsequently reported that he had lost sight of the accident pilot. The fourth pilot saw the accident aircraft disappear into a cloud layer, with its nose tilted down. The three men did not see the accident pilot again. Another witness saw the Nanchang descend from the clouds pointed at the ground at an almost totally vertical angle. The aircraft crashed on hilly terrain roughly five miles away from the Tehachapi airport.
If you or someone you love has been injured in an aviation accident in California, contact the seasoned and knowledgeable Los Angeles aviation accident attorneys at Magaña, Cathcart & McCarthy for a consultation on your case, at 310-553-6630.