Fatal Mid-Air Collision in San Diego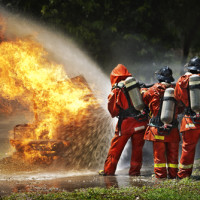 At 11:00 in the morning on Sunday, August 16th, a twin-engine experimental North American Sabreliner Sabre 60 collided in mid-air with a single-engine Cessna 172 in San Diego, sending both planes to the ground in flames where they broke up. All four people on board the Sabreliner, as well as the lone pilot of the Cessna, were killed in the crash.
The crash occurred near Brown Field Municipal Airport in Otay Mesa, a neighborhood in southern San Diego, just a stone's throw from the U.S.-Mexican border. The Sabreliner jet was being leased by BAE Systems, a military contractor, and employees of BAE – two pilots and two mission specialists – were on board the plane.
The pilot of the Cessna has been reported as being on a cross-country trip and also as practicing tough and go landing maneuvers at the airport. Although both planes had departed Brown Field earlier that day, witness accounts have the Sabre jet approaching the airfield's two runways and the Cessna heading away from the airstrip when the accident occurred.
Both aircraft were on the downwind leg of the traffic pattern at Brown Field when the accident occurred. If the Cessna pilot was practicing touch and go landings, it makes sense that he would be moving away from the runway on the downwind leg parallel to the runway after gaining traffic pattern altitude and preparing to come around for another landing. Normally, a pilot in this situation would radio the air traffic control at this time to request a touch and go landing.
It is unclear at this time what instructions either plane had received from the tower or what radio communications transpired. Eyewitnesses to the crash have stated that it does not appear that either plane attempted any evasive action as they flew at each other, each clipping the other's right wing. The Cessna reportedly broke apart in mid-air, while the Sabreliner impacted the ground and then exploded.
The National Transportation Safety Board (NTSB) has released a report containing preliminary information on the crash, although it will probably be about a year before the NTSB makes a final report on the cause or causes of the crash.