Fatal Crash Takes One Life near South Lake Tahoe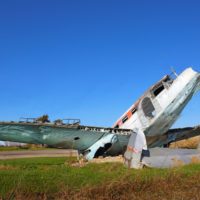 A small craft has crashed in an isolated area near South Lake Tahoe, resulting in the death of the aircraft's pilot. Rescue crews spent several days hunting for the craft before it was located.
The Cessna 182D took off from Winnemucca Municipal Airport in Winnemucca, Nevada on Saturday, October 15, 2016, at approximately 1:20 in the afternoon. The pilot had spent the prior week in Idaho on a hunting trip with friends, and had stopped over in Winnemucca to perform service on his plane and to refuel. The pilot was ultimately headed to his home in Wilton, California, planning to land his Cessna at Westover Field at the Amador County Airport in Jackson, California. On the day of the crash, weather conditions were less than ideal. A moderate rain was falling, and visual meteorological conditions were described as marginal at the Lake Tahoe airport, situated 10 miles from the crash site. The pilot had not filed a flight plan before departing from Winnemucca.
After takeoff, the plane climbed to 10,500 feet. The pilot communicated with Northern California Terminal Radar Approach Control (TRACON) when he was approaching Reno and requested visual flight rules (VFR) flight following. The Reno controller followed the Cessna until handing off the plane to the Oakland center. After providing the frequency with which to contact Oakland controllers, the pilot read it back correctly, but failed to make subsequent contact with Oakland controllers. Radar indicated that, as the plane approached the mountains, it veered to the left and right and lost altitude before descending roughly 1100 feet when about a half mile away from Red Peak Mountain. At that time, radar contact was lost.
The pilot's friends and family became concerned for his safety when he failed to return home on Saturday afternoon, as previously planned, and airport officials issued reports of a missing aircraft on Saturday evening. Crews searched for the plane near the location from which the pilot last communicated with air traffic controllers, near South Lake Tahoe in the Desolation Wilderness. The search was made more difficult due to snow, rain, and strong winds in the region. Ultimately, wreckage of the plane was discovered by search crews on Tuesday, October 18, near where it had collided with the eastern face of Red Peak Mountain.
If you or someone you love has been injured in an aircraft accident due to a mechanical failure of the plane, negligent repairs, or a pilot's negligence, contact the knowledgeable and experienced Los Angeles aviation accident attorneys at Magaña, Cathcart & McCarthy for a consultation on your case, at 310-553-6630.