Drivers Don't Practice what They Preach when It Comes to Safe Driving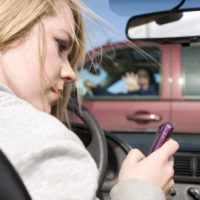 Most of us know what safe driving behavior looks like, but that doesn't mean we're always committed to driving safely ourselves. According to a recent study, most drivers know that distracted driving is unsafe, and agree with laws banning it. That said, these same drivers admit that they engage in these behaviors more often than they should. Drivers also admitted to other unsafe behaviors, such as speeding or driving while fatigued, in a recent study conducted by the AAA Foundation for Traffic Safety.
Disapproval doesn't result in modified behavior
The AAA Foundation polled over 2,000 licensed drivers who reported having been behind the wheel in the past 30 days. These drivers largely agreed on the appropriateness of unsafe behaviors. For example, 88% of drivers supported laws that banned texting while driving, and 80% considered texting while driving a "serious safety threat." Seventy percent of respondents disapproved of handheld cell phone use while behind the wheel, and 42% of drivers said they would go even further and support banning cell phone use while behind the wheel altogether, even if used hands-free. Nevertheless, 40% of drivers admitted that they had read an email or text message while behind the wheel in the past 30 days, and 31% admitted to typing one while driving.
Other unsafe behaviors, such as speeding in a residential area or driving through a red light, met with strong disapproval as well. Eighty-eight percent of drivers expressed disapproval of speeding in a residential neighborhood, but 46% admitted to doing so in the past month. Likewise, almost 93% of drivers believed that it was unacceptable to drive through a light that had recently turned red where it would've been safe to stop. That said, about 33% of drivers had done just that in the past 30 days.
California takes a hard stance against distracted driving
California imposes strict rules against distracted driving. California has banned texting while driving for years and requires that drivers use the phone on a hands-free basis. Earpieces, such as Bluetooth devices, may not cover more than one of the driver's ears. In January of 2017, a law entered effect that bans the use of handheld cell phones while driving. The law requires that any cell phone being used while driving be mounted to a dashboard or in the lower right or left-hand corner of the windshield, where it cannot obstruct the driver's view. Drivers can only use one finger to tap or swipe the screen to operate the phone. An initial offense can result in a ticket of up to $162 when accounting for fees and penalties, and subsequent offenses can reach $285.
If you or someone you love has been injured in a Southern California motor vehicle accident, contact the seasoned and effective Los Angeles personal injury lawyers at Magaña, Cathcart & McCarthy for a consultation on your case, at 310-553-6630.