Do You Know What To Do In A Car Accident?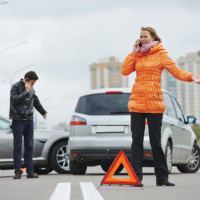 According to estimates by the car insurance industry, the average driver is involved in a car crash several times over a lifetime of driving. Hopefully, these collisions do not cause severe vehicle or property damage or serious injury to any drivers or passengers involved. But what if they do? There are several steps you can take both before and after a car accident that will help protect your legal interests, including your rights to compensation when you are the injured party.
Take steps now to be adequately insured.
The time to make sure you are adequately covered with liability insurance is before you are ever involved in an accident. Under California law, you must at least carry insurance or proof of financial responsibility to cover $15,000 for any injury or death you cause to one person, as well as $30,000 in the case there are multiple injuries or deaths, and $5,000 in property damage. Of course, these are only minimum amounts, and it would not be unwise to carry three or four times the minimum amounts. Under California's "no pay, no play" law, if you get hit by another driver when you are uninsured, you will not be able to collect all the compensation that might otherwise be available to you, such as damages for pain and suffering.
When purchasing automobile liability insurance, make sure you select uninsured motorist and underinsured motorist (UM/UIM) coverage as well. Even though liability insurance is required by law, about one in every five drivers in Los Angeles are driving without it. UM/UIM will help protect you when you are hit by an uninsured driver. Consider getting as much UM/UIM as the liability insurance you are carrying; the additional cost is minimal and well worth it considering the risk.
Always wear your seat belts.
Even if your vehicle contains air bags, seat belts save lives, and wearing them is required by law. Make sure you and your passengers are properly belted before you start driving. Children under eight years old should be properly secured in a car seat or other approved child restraint system in the back seat, and children under one year old or under 20 pounds should be in a rear-facing car seat in the back seat.
Follow these steps in an accident.
If it is possible and safe to do so, move the vehicles to the shoulder of the road and wait for the police to arrive. If anyone is injured, call 9-1-1. Attend to your own injuries or anyone else who is injured if you can, but do not move an immobilized or unconscious person unless absolutely necessary. While waiting for the police to arrive, exchange information with the other driver(s), including name, address, insurance company and policy number. If there are any witnesses, try to get their names and contact information as well. Make a note of the damage to the vehicles and the driving/weather conditions. If your injuries prevent you from doing any of these things at the time of the accident, contact the police when you can to review the accident report or give your side of the story.
Whether you were treated at the scene or transported to a hospital or not, make an appointment with your doctor for a thorough examination. Some serious injuries are not readily apparent at the time of the accident but should be diagnosed and treated as soon as possible for the best result. If you feel nauseated, dizzy or lose consciousness, experience pain, numbing or tingling or anything out of the ordinary, call your doctor or get medical help right away.
Contact an attorney.
Just because you and the other driver may be insured, don't assume that you will be properly taken care of by the insurance carrier. Settlement offers made to unrepresented persons almost never represent what the claim is really worth. As soon as you can, call an experienced Los Angeles car accident attorney to protect your rights and preserve your opportunity to get the compensation you need and deserve. In Los Angeles and southern California, contact Magaña, Cathcart & McCarthy for a confidential consultation offered at no charge.