Concussions Frequently a Result of Collisions and Falls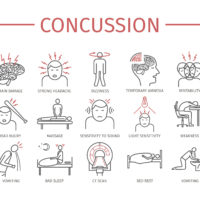 The Centers for Disease Control and Prevention (CDC) estimate that head injuries contribute to 30% of all injury deaths, and that an average of 138 people die each day as the result of a head injury. In 2010 alone, the CDC found that 2.5 million emergency room visits, hospitalizations, or deaths were attributable at least in part to a form of traumatic brain injury (TBI). The most common and mild form of TBI is the concussion. Read on to learn more about concussions, and speak with an attorney as soon as possible after a head injury.
Americans experience millions of head injuries each year
In 2010 alone, the CDC found that 2.5 Americans were either fatally injured by, or needed emergency room care or hospitalization due to a brain injury. Concussions result from the brain being suddenly jolted, accelerated, or decelerated as the result of impact of an object on the skull. This impact causes the delicate brain matter to be slammed against the hard skull, which can cause bruising, temporary loss of brain function, or even bleeding on the brain.
Falls are the largest cause of TBI every year. The CDC has found that 40% of all brain injuries across the US every year are caused by fall injuries. Children under 14 and adults over age 65 are those most likely to suffer a brain injury as the result of a fall. Other common causes include impact with a blunt object, assaults, and car accidents.
Symptoms of concussions
Common symptoms of concussions include:

Dizziness and disorientation

Amnesia from immediately before or after the accident

Loss of consciousness

Ringing in the ears

Nausea or vomiting

Fatigue

Being easily frustrated or quick to anger

Difficulty sleeping

Problems with concentration or memory
Post-concussion syndrome prolongs recovery from head injuries
While most concussion victims will recover within weeks, about 10% of all those who incur a concussion experience what's known as post-concussion syndrome. This disorder causes the symptoms of the concussion to last between three months and a year. Post-concussion syndrome can pose a substantial problem for accident victims attempting to return to their normal lives, even interfering with victims' abilities to return to work or school. Accident victims may have a cause of action for symptoms of post-concussion syndrome when these symptoms require expensive medical treatment, force them to lose wages, or involve substantial pain and suffering.
If you have been injured in an accident in Southern California, find out if you have a claim for money damages to help with your expenses by contacting the experienced and effective Los Angeles personal injury lawyers at Magaña, Cathcart & McCarthy for a consultation, at 310-553-6630.