Commercial Pilots Go Down in Southern California Private Plane Accident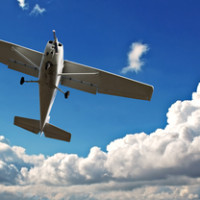 On the afternoon of January 14th, a Morrisey 2150 two-seater aircraft went down in the Pacific Ocean about a mile south of Pismo Pier near the Southern California communities of Pismo Beach and Oceano in San Luis Obispo County. The flight had originated about 20 minutes earlier from Santa Maria Public Airport in Santa Barbara County. At this point in the investigation, it does not appear that any communication took place between the plane and air traffic control that would indicate what state of distress the plane or pilot may have been in shortly before the accident occurred.
The pilot of the craft has been identified as David Brian Casey, 63. Captain Casey was an active pilot with American Airlines, for whom he had flown commercial jets for 34 years. The passenger in the plane was also a commercial pilot. Alan George Gaynor, 52, of Los Angeles, was reported as being a pilot for SkyWest Airlines.
The San Luis Obispo County Sherriff's Department and its dive team have been leading the search for the plane and the bodies. Some debris, personal effects and human remains were found near the crash site on the same day as the crash, but after six days of search-and-recovery, only a little more wreckage had been found. The Sheriff's Department is expected to hand over the investigation to the Federal Aviation Administration (FAA) and the National Transportation Safety Board (NTSB) once the plane is located. At this point, the NTSB is only providing the most basic facts in its preliminary report of the accident.