Collision Involving "Phantom Driver" Causes Serious Damage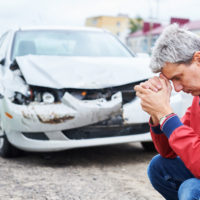 A recent accident in South Los Angeles involving multiple vehicles, including a school bus, caused thousands of dollars in damage and put the lives of several minors at risk. The accident was caused by a so-called "phantom driver" who fled the scene of the crash.
Late left turn causes crash
The accident occurred at approximately 6:30 am on the morning of January 27, 2017. A surveillance camera from the scene of the accident recorded the crash and is currently being used by law enforcement to attempt to find the driver who set the events in motion. At the intersection of Normandie Avenue and West 66th Street, a car abruptly turned left on Normandie from 66th, causing an SUV traveling straight through the intersection in the opposite direction to swerve to avoid an accident. The driver of the SUV lost control of the vehicle and slammed into a school bus in a neighboring lane. This collision pushed the school bus into two cars parked along the side of the road. The bus dragged one of the cars down the street for 50 feet before ending up on the sidewalk, coming to a stop against a utility pole.
The driver of the SUV and school bus were both transported to a nearby hospital. At the time of the accident, the bus was carrying seven students from a local middle school; fortunately, while the windows of the bus were shattered in the crash, none of the students were injured. The driver of the white car that turned left in front of the SUV did not stop and is currently the subject of a search by local police.
Phantom drivers
Drivers who cause another car to crash but don't make physical contact with the car that crashes are known as "phantom drivers." Drivers involved in a crash with a phantom driver may feel discouraged about their prospects of success in recovering damages for that crash, and car insurance companies often make it harder for accident victims to recover on such claims. With the help of an attorney, however, drivers can pursue a claim for damages, using witnesses who can testify to the presence of another car that caused the crash. Pursuing these claims without legal help can be a challenge.
For assistance with pursuing a claim for money damages after a Southern California car accident, contact the seasoned and effective Los Angeles personal injury lawyers at Magaña, Cathcart & McCarthy for a consultation, at 310-553-6630.