CDC Warns of Infections from Devices Used During Open-Heart Surgery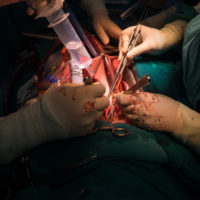 The Centers for Disease Control and Prevention (CDC) has recently announced concerns about  an infection risk caused by devices commonly used during open-heart or other open-chest surgeries. The devices, known as heater-cooler devices, may have been contaminated during the manufacturing process. Victims of infection have already begun to file suit against the maker of these devices for injuries caused by a defective product.
Popular heating-cooling device used in thousands of surgeries each year
The product in question is the Stockert 3T heater-cooler device, manufactured by LivaNova PLC. These devices were formerly made by Sorin Group Deutschland GmbH, and may still be known as the Sorin 3T, but Sorin was bought out by LivaNova in 2015. These devices are frequently employed during surgeries which require that a patient's heart and blood flow be stopped, such as heart or lung transplant surgeries, or open-heart surgeries. They are used to perform the critical function of regulating the patient's body temperature during such surgeries, and the Stockert 3T accomplishes this by using a water circuit to control the patient's temperature. According to the CDC, over 250,000 surgeries using such devices are performed every year, and roughly 60% of those surgeries use the Stockert 3T device. Once one patient in a hospital is infected with the bacteria associated with the devices, the chances of another patient being infected are between 1 in 100 and 1 in 1,000.
Bacteria possibly linked to German manufacturing plant
The CDC, alongside the Food & Drug Administration, first issued warnings about the potentially-infected devices as far back as 2015. Researchers identified a strain of bacteria found on the Stockert 3T heater-cooler that had been found in several patients across the country. That same strain was traced back to Europe, and some experts believe that it can be traced back to the original site of manufacture of the devices in Germany.
Dangerous infections take months to develop
The bacteria that has been discovered on the Stockert heater-cooler devices is known as Mycobacterium chimaera, or M. chimaera. It is not especially dangerous when found in nature—in fact, it is commonly found in soil and water—but can be lethal when patients are exposed during surgery. Patients cannot be tested for the bacteria, and it often causes generic symptoms of infection which can take several months to evolve. The delay between infection and symptom development makes the resulting illness especially difficult to treat. Patients who experience a long-lasting fever, night sweats, joint pain, difficulty breathing, or a loss of energy after an open-heart or other open-chest surgery during which this device may have been used are advised to speak with a doctor immediately about a possible infection from the Stockert 3T. Those who have been infected should speak with an attorney as soon as possible about the possibility of filing a claim for money damages.
If you or someone you love has been injured or killed by a dangerous surgical device in California, find out if you have the right to file a claim for compensation by contacting the skilled and experienced Los Angeles dangerous medical device attorneys at Magaña, Cathcart & McCarthy for a consultation on your case, at 310-553-6630.