California Firm Sued in Connection With Salmonella Outbreak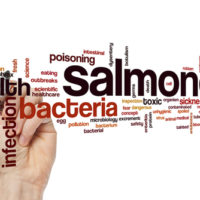 As a salmonella outbreak has caused hundreds of people to become sick across the United States, several lawsuits have been filed against a California produce firm whose cucumbers allegedly caused consumers to become severely ill. Andrew and Williamson Fresh Produce, Inc., operating out of San Diego, had previously issued a recall of cucumbers that it had supplied to various restaurants and distributors, including Wal-Mart, Sam's Club, Albertson's, Safeway, Red Lobster, Costco, and Olive Garden. The CDC released an alert following the company's recall on September 4 indicating that the cucumbers had been grown in Mexico and distributed to 22 states, and urged customers, restaurants, and retailers that the recalled cucumbers could cause diarrhea, abdominal cramps, and fever. Two people have reportedly died from eating the cucumbers.
In one case, Kathleen Dvergsten of Minnesota, alleges that she was infected with salmonella after eating cucumbers supplied by the company on a salad in a Red Lobster in August. She became violently ill the next day, suffering "severe cramping, vomiting, and near constant diarrhea" and was admitted to a hospital for the next six days. Her symptoms worsened and she further experienced nausea, fever, and muscle pain. She also required an additional eight days in a rehabilitation center, for a total of two weeks of in-patient care. She alleges that the company was negligent in supplying salmonella-tainted cucumbers to the Red Lobster, and asks for damages for her past and future medical care, as well as for emotional distress and loss of enjoyment of life. A second plaintiff from Minnesota has also filed suit against the company in connection with food poisoning she suffered as a result of eating at a Chipotle, and a California plaintiff has filed suit in connection with food poisoning after eating at a Red Lobster as well.
The CDC estimates that, as of mid-September, 341 people across 27 states were infected by the cucumbers supplied by the company, with 72 of those cases occurring in California, 66 in Arizona, and 30 in Utah. A Texas woman died in September from salmonella-related causes, and a 99-year-old woman died in San Diego in August as well. Children and the elderly are especially susceptible to salmonella poisoning.
Food distributors have a duty to prevent the foreseeable risk of causing food poisoning in the customers who ingest the food they distribute, and can be liable in negligence for failing to honor that duty. While a plaintiff will have to prove that a distributor acted negligently, in certain cases the plaintiff can present facts that will properly imply the occurrence of negligence even if specific evidence, like eyewitness testimony, is not available to directly show the company acted negligently. A good plaintiff's lawyer will investigate the facts to put together a case in which a jury can reach a verdict that a food distributor acted negligently and obtain compensation for a plaintiff injured through food poisoning.
If you have been the victim of food poisoning resulting in serious injury, contact Magaña, Cathcart, & McCarthy in Los Angeles for a free analysis of your case.