California Couple Awarded $5.5 Million against Maker of Vaginal Mesh Implant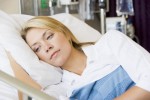 As reported by KGET.com, a Bakersfield, California couple was awarded $5.5 million against C.R. Bard Medical, the maker of a vaginal mesh implant called Avaulta Mesh. With hundreds of lawsuits involving vaginal mesh pending across the country, this is the first jury win for a woman who has suffered severe complications after undergoing vaginal mesh implant surgery.
Christine Scott received a vaginal mesh implant to correct urinary incontinence, or a leaky bladder, a relatively minor and common condition. Her ordeal following the procedure, however, turned out to be anything but minor. The mesh implant began cutting into her colon, and because tissue continues to grow through the tiny holes of the mesh, an implant is difficult to remove entirely. At the time of the KGET interview, she had already undergone eight additional surgeries to repair the damage caused by the implant, and her doctors could not predict how many surgeries she would need to fully recover from the mesh failure.
The Scotts' $5.5 million verdict represents $5 million awarded to Christine for her damages and $500,000 awarded to her husband for the affect Christine's condition has had on the couple's love life. The jury's decision, and award, is based on the finding that C.R. Bard knew its vaginal mesh was unsafe, yet continued to sell the product.
FDA Warned the Medical Community about Dangers Associated with Vaginal Mesh
A year ago, in July 2011, the Food and Drug Administration (FDA) issued a safety communication to inform the medical community and patients of serious complications associated with the vaginal placement of surgical mesh, ranging from mesh erosion to organ perforation (as in Christine's case) to infections. Other reported adverse reactions to vaginal mesh implants include pain during sexual intercourse, urinary problems, bleeding, recurrent prolapse of pelvic organs, neuro-muscular problems, vaginal scarring or shrinkage, and emotional problems.
With health care professionals questioning the safety of vaginal mesh and many women experiencing serious complications, C.R. Bard Medical took Avaulta Mesh off the market on July 1, 2012. However, the Securities and Exchange Commission (SEC)indicates that 47,000 women have already had the mesh implanted, and 650 lawsuits are currently pending. As a result of the Scotts' breakthrough victory, even more women will likely seek compensation for their suffering, and this number will appropriately increase in the weeks and months to come.
Talk to a Lawyer if you Suffer Complications from a Vaginal Mesh Implant
The Los Angeles personal injury lawyers at Magaña, Cathcart & McCarthy are well-qualified to represent women in Southern California who have suffered complications and adverse affects as the result of vaginal mesh implants. Please call Carter Spohn at 310-553-6630 or email our firm immediately to discuss possible compensation for your injuries.