Beech Crash Results in Loss of Four Lives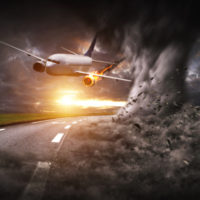 A recent crash outside of the Ogden-Hinckley Airport resulted in the deaths of all four persons on board the aircraft. The crash marks the seventh incident this year involving a Beech A36, and the third involving a fatality.
Crash in freeway center median
The crash occurred in Riverdale, Utah on July 26, 2017. Two couples were on board a Beech A36 Bonanza on their way to a cabin in Idaho. The aircraft was registered to Peak 2 Peak, LLC. It was being piloted by the husband of one of the couples, flying out of Ogden-Hinckley. Witnesses report that, shortly after takeoff, the plane was making a strange noise. Mechanics at Ogden-Hinckley who observed the plane taking off reported that the engine sounded underpowered, and that the aircraft was at about 100 feet when it should have been at 500 feet or more based on its position on the runway. Shortly after takeoff, the pilot radioed the air traffic controller to report that the plane was going down. He tried to bank right in an apparent effort to return to the airport or find a field in which to put the plane down, but simply ran out of time to do so. The plane went straight down in a median on the I-15 freeway.
Seven fatal injuries in Beech A36 in 2017
The Utah crash is the seventh time this year that a Beech A36 Bonanza has been involved in a serious incident, and the third time that the incident has resulted in fatal injuries to those on board. When the Beech A36 Bonanza was first released in the late 1940s, the newer model was far more complex to operate than its predecessor. The aircraft became known as the "doctor killer," due to the fact that those who purchased the aircraft–largely doctors, lawyers, and other professionals—were becoming involved in more accidents due to the increased difficulty in flying the planes compared to older models. Since that time, the aircraft's reputation has improved, and most experts regard it as a safe and reliable plane when in the hands of a well-trained pilot.
According to a study conducted by the Aircraft Owners and Pilot's Association in 1994, pilots were responsible for 83% of all crashes between 1982-1989 involving straight-tailed Bonanza planes. The aircraft involved in the Utah crash was a straight-tail Bonanza, manufactured in 1981. The National Transportation Safety Board is continuing to investigate the causes of the crash and has not yet released a suggested cause.
If you or a loved one has been injured in a plane crash in California, contact the knowledgeable and effective Los Angeles aviation accident lawyers at Magaña, Cathcart & McCarthy for a consultation on your case, at 310-553-6630.