Accident Victim Awarded $23.7 Million in Dangerous Intersection Lawsuit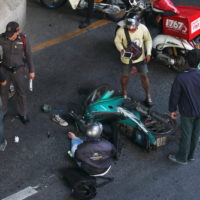 A recent trial resulted in a jury verdict in favor of the family of a fatally-injured victim of an accident in San Pedro. The $23.7 million award to the widow and son of the accident victim against the City of Los Angeles is an example of a city being held liable for the safety of the roadways and intersections it maintains.
The case in which the jury award was granted was titled Lani Guillmette v. City of Los Angeles. The lawsuit was based on an accident occurring on February 27, 2013. The victim, Thomas Guillmette, was riding his motorcycle on Summerland Avenue in San Pedro. Another driver of a passenger vehicle was attempting to turn left on Summerland from Cabrillo. His visibility was severely limited, as there were cars parked legally along Summerland which made it difficult to see oncoming traffic on that street from Cabrillo. As the passenger vehicle inched his SUV into the intersection, Guillmette clipped the front of the SUV, causing him to crash. Guillmette died at the scene of the accident. The driver of the SUV was not charged.
Guillmette's wife brought a claim for wrongful death against the City of Los Angeles. Lani Guillmette claimed in her suit that the city had failed to correct a dangerous condition at the intersection, after having received numerous complaints about the dangers of that intersection, and that, had the city acted to correct the danger, the accident likely would not have occurred. According to evidence presented at trial, the city had received complaints about the intersection for over ten years, but had done nothing about it. The city had promised as long ago as 2001, and again in 2009, that it would install a stop sign and limit parking near the intersection to improve visibility. However, no safety measures were taken until after Guillmette's death. The city defended itself by arguing that it had never developed plans to take corrective actions at the intersection. One city expert who testified was shown plans to add a red curb to the street where the parked cars had blocked the SUV driver's view, but denied knowledge of the plan. The city also argued that the collision had been entirely the fault of the SUV and victim, despite the fact that the SUV driver was not charged and that witnesses testified that Guillmette was traveling at the speed limit when the accident occurred.
If you have been the victim of a car accident caused by a dangerous or poorly-maintained roadway in Los Angeles, contact the knowledgeable and trial-ready personal injury lawyers at Magaña, Cathcart & McCarthy for a consultation on your claims, at 310-553-6630.