Help is Available for Xarelto Injury Victims and Their Families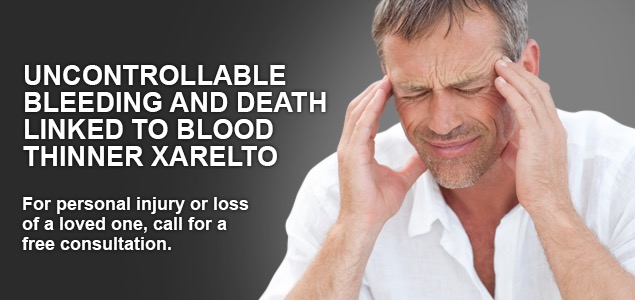 Irreversible and uncontrollable bleeding in people taking Xarelto has resulted in serious personal injury and wrongful death for hundreds of people. Uncontrolled internal bleeding may cause brain hemorrhages and other organ damage, along with a host of other harmful or fatal consequences. These dangers have led many Xarelto users to sue the pharmaceutical companies responsible for manufacturing and promoting a dangerous product without adequately warning of the risks. As awareness of these dangers increases, the number of Xarelto lawsuits will likely increase as well.
What is Xarelto?
Xarelto is the brand name for rivaroxaban, which is a blood thinner or anticoagulant prescribed to treat certain conditions. Xarelto was first approved for use to reduce the development of blood clots after knee or hip replacement surgery. It was later approved by a divided panel of the Food and Drug Administration (FDA) to reduce the risk of stroke in people with Atrial Fibrillation (AF). The pharmaceutical giants next obtained fast-track FDA approval for the use of Xarelto to treat deep-vein thrombosis (DVT) and pulmonary embolism (PE).
Is Xarelto Worth the Price?
Xarelto is marketed as a better alternative to warfarin (Coumadin), a blood thinner which has been used safely and satisfactorily for the past 50 years. So why exactly is a new drug needed, and what makes Xarelto better than warfarin?
Doctors prescribing warfarin must periodically monitor the patient and prescribe each dosage level according to the needs of the individual patient. Xarelto, with it's one uniform dosage, is therefore more convenient for both doctor and patient. But at what cost? Not only is Xarelto an astronomical 15 times more expensive than warfarin ($3,000 versus $200 per patient annually), but the risks are much greater as well.
As anticoagulants, all blood thinners run the risk of causing internal bleeding, but bleeding caused by warfarin can be simply and effectively treated with large doses of vitamin K. Unfortunately, there is no antidote or cure to stop bleeding caused by unwanted Xarelto side effects; only after the drug has been flushed out of the system may the body begin to stop the bleeding through natural clotting processes. It may take as long as 24 hours to rid the body of the Xarelto already in the system, and that may simply be too long to avoid serious injury or death.
Xarelto may be more convenient for the consumer than warfarin (and vastly more profitable for the pharmaceutical industry), but it is riskier and deadlier, with no known antidote to stop any bleeding that may occur. It should also be noted that Xarelto has not been shown to be any more effective as a blood thinner than warfarin.
Watch for Xarelto Side Effects and Symptoms of Uncontrolled Bleeding
The concern over uncontrolled bleeding involves more than a cut or other break in the skin; a rupture in the blood vessels anywhere in the body can cause internal bleeding, intestinal bleeding, brain hemorrhage and organ damage that must be quickly treated to avoid permanent disability or death. Even though there is no antidote to uncontrollable bleeding caused by Xarelto, doctors may still be able to drain areas where blood is pooling and also try to prevent excessive blood loss while the body rids itself of the Xarelto currently in the system. If you have been taking Xarelto or another blood thinner and experience any of the following symptoms, call your doctor or seek emergency medical help right away:
Swelling
Dark bruising
Weakness
Dizziness
Headache
Nosebleed
Bleeding gums
Heavy menstrual bleeding
Blood in the urine or stool
Vomiting or coughing up blood or blood clots
Should I Stop Taking Xarelto?
Despite the dangers associated with the use of Xarelto, you should not stop taking Xarelto or any prescribed medication without first consulting with your doctor. Patients who suddenly stop taking Xarelto may develop dangerous blood clots. Engage in a serious discussion with your doctor about the risks of Xarelto and safer alternatives such as warfarin. Xarelto is not recommended for people with a variety of medical conditions, and the FDA has even required a black box warning on every package of Xarelto warning against its use for people receiving epidural or spinal anesthesia or punctures. A black box warning is one of the most serious steps the FDA can take, short of ordering a recall. To date, there have been no voluntary Xarelto recalls by the manufacturer or recalls of Xarelto mandated by the FDA.
Hold the Drug Makers Accountable and Receive Compensation for Your Injuries
If you have suffered an injury due to uncontrollable bleeding after taking Xarelto, or if you lost a family member due to these complications, you may have legal recourse against the manufacturer and distributor of this dangerous drug. Xarelto is manufactured by Bayer Healthcare AG and heavily marketed in America with Johnson & Johnson through its Janssen Pharmaceuticals unit. These drug makers may be liable for putting Xarelto on the market without developing an antidote to the uncontrolled bleeding, knowing the risks posed by blood thinners. They may also be liable for failing to warn doctors and patients about the risks involved with Xarelto, or for hiding important safety information from the public and the medical community. With the help of dedicated Xarelto lawyers, you may be entitled to compensation for the harm you suffered, including:
Costs of emergency room visits
Costs of treatment
Lost wages for time you missed from work
Compensation for emotional distress, pain and suffering
Reimbursement for funeral and burial expenses, if you lost a loved one due to Xarelto complications
In addition, you will be helping to hold the drug makers accountable for their actions, raise awareness about the problems of Xarelto, and move the pharmaceutical industry and government agencies such as the FDA to take steps to ensure the safety of Xarelto and other drugs. The wheels of government move slowly, and often private legal action is the most effective means to spur real action. Similar actions against another blood thinner – Pradaxa – resulted in a $650 million settlement of about 4,000 claims.
About Magaña, Cathcart & McCarthy
The Los Angeles law firm of Magaña, Cathcart & McCarthy has helped people nationwide in some of the most complex cases dealing with personal injury or wrongful death due to dangerous drugs, defective medical devices, and other products liability litigation. Even if Xarelto lawsuits are consolidated into one multidistrict litigation (MDL), you will still be able to choose your own lawyer and have your case heard individually. Whether the drug makers eventually enter into mass Xarelto settlements or decide to litigate, you will want to make sure you are well represented at all stages of the legal process. Choose a law firm that has the skills and resources to go up against the pharmaceutical industry and make sure your voice is heard. If you believe that you or a member of your family has been harmed by the use of Xarelto, contact Magaña, Cathcart & McCarthy for a free consultation with one of our knowledgeable and experienced dangerous drug attorneys.